So, your car has gotten old. You are thinking of disposing of it but you are confused that where should you dispose of it or by what mode. All of it depends on the requirement you have. I mean, do you need the money after disposing of it or not. Do you want it to use it for business or just want to turn on your ethical button and just give it off for free?   These things should be considered when you are planning to dispose of the old car. I am going to help you out here by telling you something or some ways which will help you take a decision.
SELL IT
As I said before that, you can even trade in this car if you are willing to make some money out of it. It is not that difficult deal but, you might need to understand that it is an old car so you would not be getting a lot of money out of it.
You can sell it by firstly, finding its price online and also by browsing in the neighborhood that, there are people who don't have a big asset and they can work out with your car. It will give you the best price which you want and you will not have to put a lot of effort into selling it.
Before, selling it, you need to clean the car up so it will look like new or with not much rust.
You will need to arrange the docs so that you don't miss out anything at the time of the deal.
If there is anything which you can do maintenance off then, you can do that without any delay as the better your car looks, the more money you will get.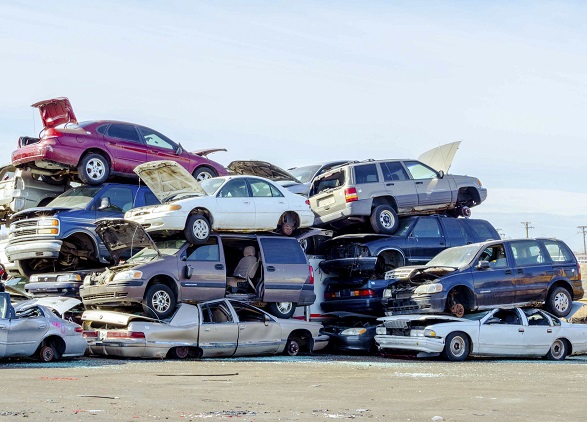 GIVE IT TO JUNK YARD
Disposing off an old car is the ideal scenario when people want to go to the junkyard and give the car away. There are many junk car removal services in the country and if you are willing to give it to them, then you can just find their contact online and sell it off to them. You will not get a lot of money from them but still, you can make some money and the paperwork and tow of the car will be the burden of the Junkyard people.
Speaking of towing, you make sure that you find the one who is not only towing your car away for free but also the one who will make sure to do it in as healthy way possible. Because lots of Junkyards doesn`t have the viable equipment or employees who take this matter seriously and in return ruins the city and environment.
DISMANTLE THE CAR FOR PARTS
If you are familiar to Cars and you know that how to dismantle the parts of the car, then it is the best time you take out the best parts of your car to make more money on them than to giving it to some junkyard or so.
Car parts are really expensive if you are planning to sell them off separately. You can start off by taking out the engine and transmission of the car, as they are the most desirable items of the car and could pay you a lot. Electronic items of the car could give you a great deal too, especially in the car enthusiasts. Tires and rims are good items if they are not worn out. You can check yourself what parts of the car it good condition and you can dismantle them and leave the rest of the car alone. This mode will pay you the most but, if you are a knowledgeable person of the car or knows some cheap mechanic who can give you this service then you can try it for your own good.