Quick Cash for Cars - We Replace Old, Junk & Wrecked Cars with Cash
Find Out How Much Your Car is Worth
We Buy Old,

Unwanted & Used Cars In Melbourne
We buy your Old car, scrap car, Unwanted car and offer cash for cars Melbourne
Our service is super-fast and reliable
We take all kinds of cars in whatever condition they are.
We guarantee instant payment on the same day we remove your car
Here is a list of what details we will need from you if you use choose VicRecyclers for cash for scrap cars Melbourne. We require this information because we need to organize a tow truck for picking up the vehicle.
To start with, we require your vehicle's registration number. But no worries, even if it is unregistered. We will not say no to the car. We value every car.
We need a proof of ownership or Driving License to get your car picked up for cash.
Get Unbeatable cash for unwanted cars in Melbourne and offer a quick and easy car removal service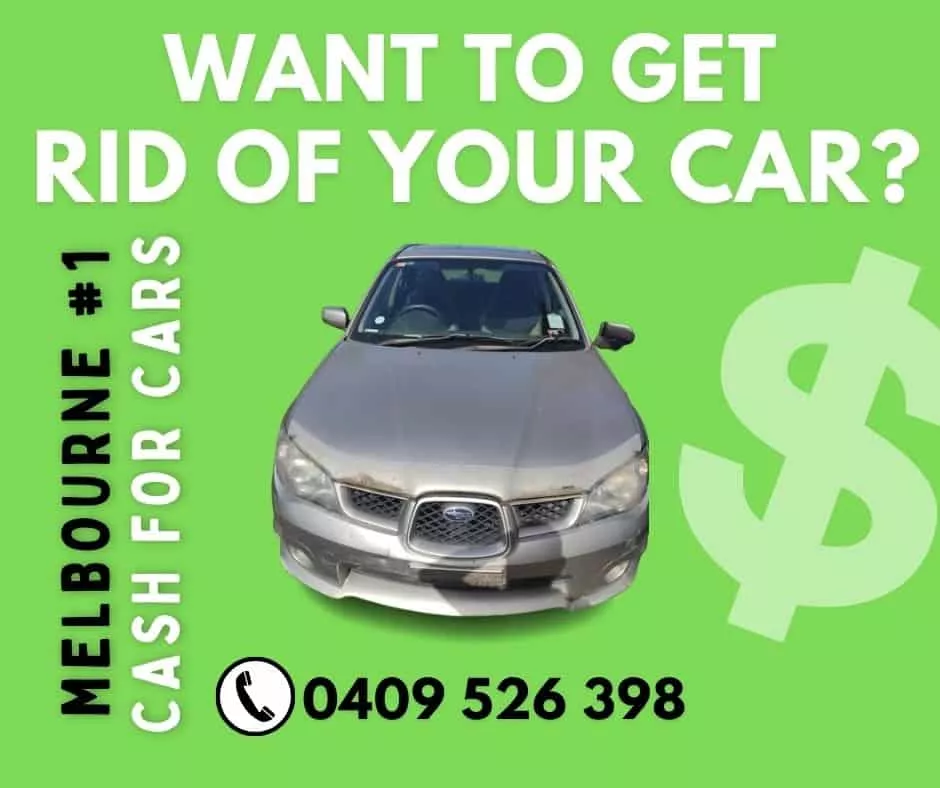 We Provide

Top Cash for Cars In Melbourne
If you have an unwanted car in your back yard or driveway and need instant cash for car, we have good news for you. We will help you get rid of the junk car, pay you cash for your vehicle, and remove your car safely from anywhere in Melbourne and the surrounding suburbs. Use quality and safe equipment during the whole service. We have well-experienced staff who take the responsibility to work professionally. Our forklifts, winches, and all other tools and equipment are of fine quality.
We do not compromise on quality. Our staff pays close attention to the details they are given so there isn't any misunderstanding. We buy all sorts of cars so do not hesitate if your car is really old and in very bad condition. We even take cars that don't run or even if it is wrecked. Accept all the makes and models of cars.
Vic Recyclers is the leading Cash for Car Company in Melbourne. We have achieved success with honesty and commitment to our work.
Feel free to contact us if you have Salvage cars, unwanted cars, accident cars, damaged cars, unregistered cars, smashed cars, Scrap cars, Used cars, Wrecked cars, and Junk cars.
We are licensed car buyers.
Why Vic Recyclers
Is the Best Choice For Cash For Cars?
You might have heard about other car removal services who claim to be the best. We not only claim it verbally but actually do it. Our services are also available in Dandenong, Mornington, Melton, Narre Warren, Cranbourne, Pakenham, Werribee and all the other suburbs.
Offer highest cash for your old car, scrap cars, damaged and wrecked vehicle
Free car towing service and cash for cars removal Melbourne
Payment of cash right away
The paperwork is handled by our team.
The staff is professional and friendly
Customer satisfaction is our top priority
Free of cost services –No hidden free
Environmentally friendly service – Green & Clean Australia
Offer Same-day car removals service
VicRecyclers pay cash for cars in the shortest possible time because we know that time is very precious. On top of all, we do not have any hidden fees or charges. We pay the money on the spot and do not make you wait for days. We guarantee you that we are the highest payers in the town. Also, we provide free towing of the vehicle. You have to just make a call to us on 0409 526 398. We'll offer a free car valuation quote. You will not find such a fine quality service anywhere else. Our services are second to none. We are available from Monday to Saturday (9:00 am till 5 pm)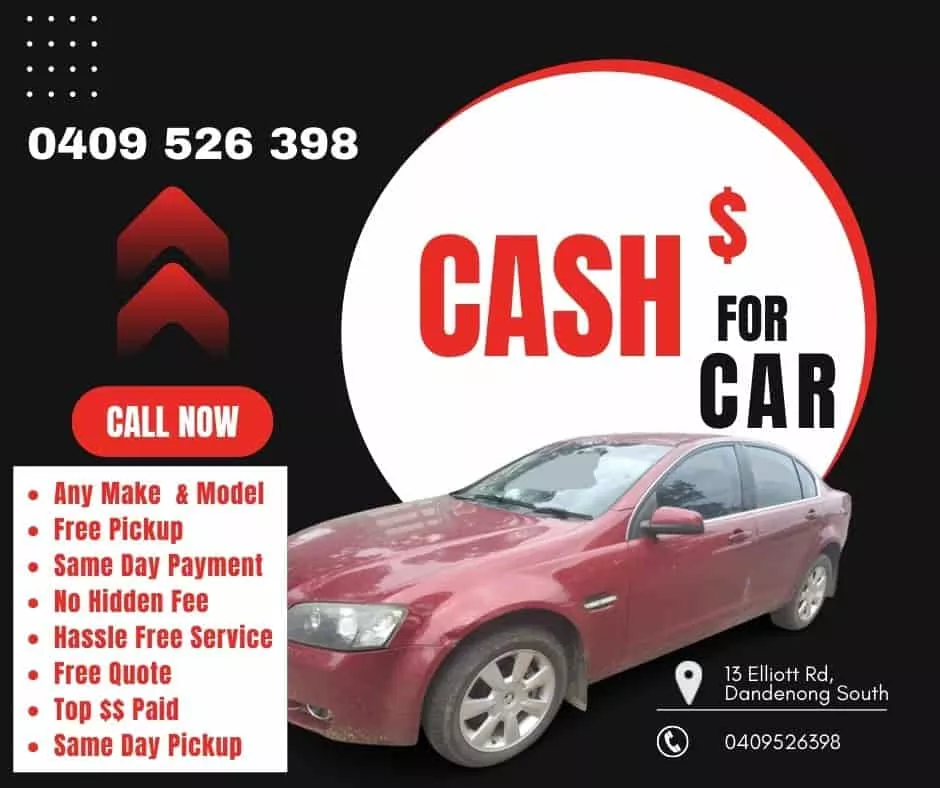 Make sure that before we reach your location, you have taken out all your personal belongings from the vehicle. All the documents, money, jewelry, CDs, DVDs and even books. On the off chance that you have forgotten to remove anything from the car, make sure you call our customer service instantly and inform them about it. We will try our best to give your belonging back to you.
What Brands And Types Of
Vehicles We Buy?
We are top cash for car buyers Melbourne and here is a list of the brands which we buy cars either its sedan, hatch-back, coupe, van, bus, trucks, Ute, SUV, 4wd and all kinds of commercial and industrial vehicles. From European cars to Japanese cars to American cars, we buy any make and model of cars or trucks.
We pay cash for cars in
any conditions

including;
Yes, we will pay you the highest cash possible for your vehicle. For more details call now on
0409 526 398
.
What Are Possible Reasons to
Get Rid of your car?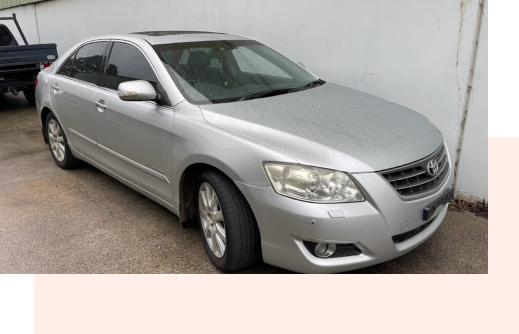 There can be many reasons which can force you to think to get rid of your scrap car for cash. The reason could be mechanical, electrical or even cosmetic. It does not matter what the reason is because we will still give you cash for your car. Here we show some of the reasons why all the people in town approach us on a daily basis to get rid of their junk cars and we're leading car wrecker that take junk cars .
What Are

Possible Reasons to Get Rid of your car?
We are offering top cash for car in Melbourne, trucks as well as 4wd. So you can get cash for scrap car. To get a free quote for your vehicle call us now or email us at
info@vicrecyclers.com.au.
We'll schedule a time to visit your premises according to the date and time which best suits you. We'll do free vehicle estimation and once you give us a go-ahead, we simply pick your car from your premises. Yes, it's that easy.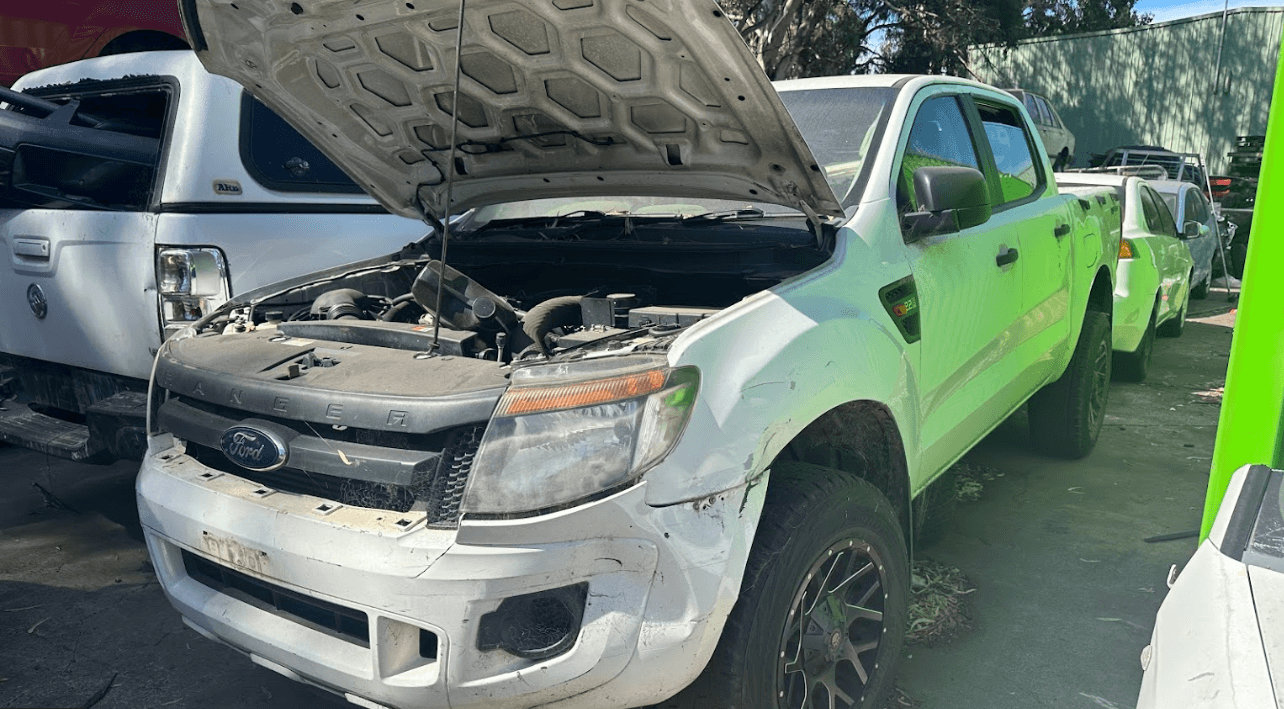 How To Sell Your Old
Scrap and Unwanted Cars For Cash

In Melbourne
VicRecyclers is a licensed and renowned company in Melbourne. We have a good reputation of offering top cash for cars. We offer fair cash regardless of the condition, make, year and model of the vehicle. When your vehicle is no longer in use and its condition is worsening. It is better that you sell the old vehicle instead of wasting money on it. These wrecked vehicles get rusty with time and has adverse effects on the environment. For the safety of the environment, recycling plays an important role. Yes, VicRecyclers buy your damaged and wrecked vehicle and dispose them of safely according to the Australian Recycling policies. The Good parts of the vehicle that can be reused are separated and tested. They are cleaned and added to our stock. You can also contact us, if you require a good quality part for your vehicle.
Sell your vehicle for parts to VicRecyclers Today, our team works efficiently to keep you relax and away of all the stress and trouble, Selling an unregistered car in Melbourne is easy with us. Our team provides services all across Melbourne and also in its surrounding areas.
Call us now to find out how much to scrap your car and how to get rid of unwanted car?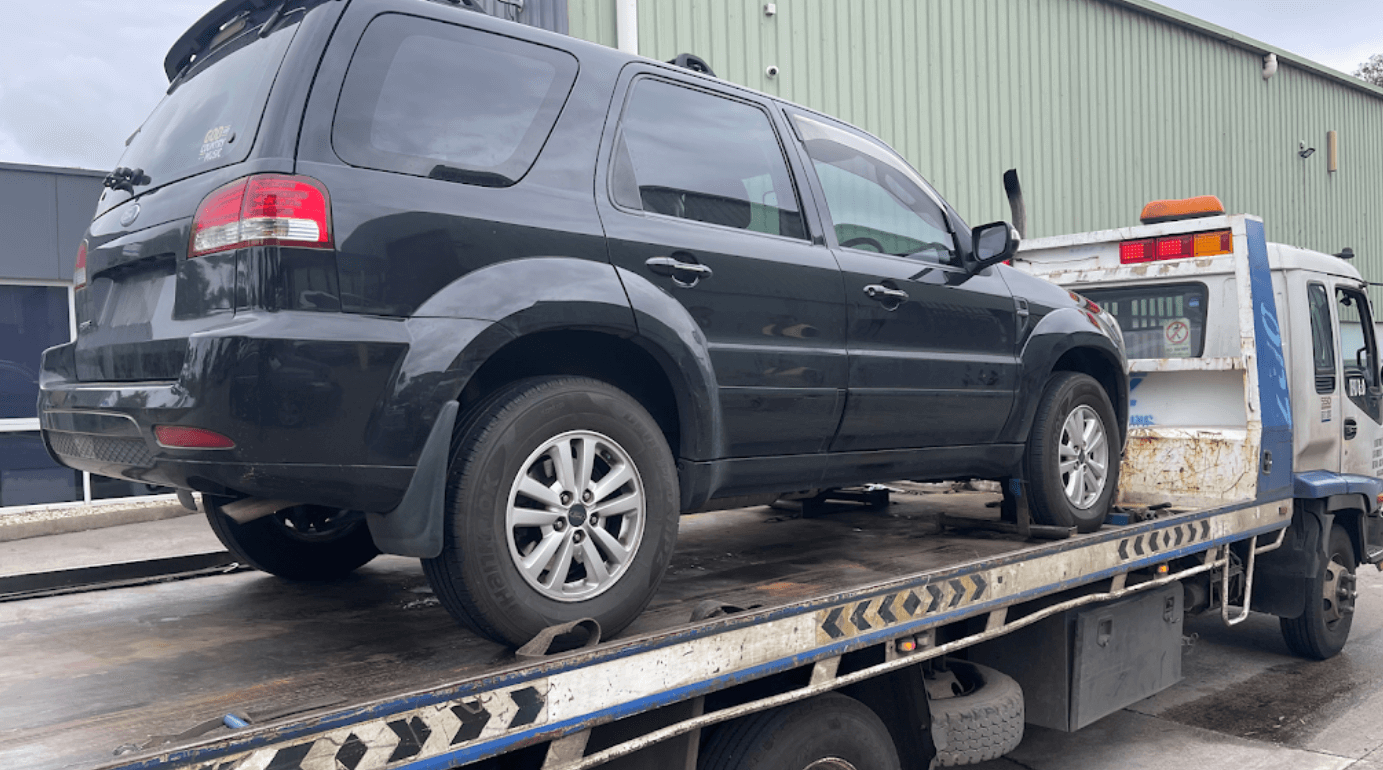 We Offer Free
Car Removal Services

– No Hidden Charges
So without wasting a single minute, contact us now! Our talented team will assist you and guide you in detail. Your vehicles are valuable to us. We treat all of our clients with a lot of respect and a positive attitude. We never let any old car get wasted and make the best use out of it. You are also guaranteed to receive only the best price for your broken, accident damaged or junk cars.
Still confused? Let's move forward and see what you can get from
our cash for cars services

in Melbourne.
Feeling stressed? No worries, We are here to give you a reliable, authentic, and quick cover. By getting in touch with our expert, you can not only get the best and probably the highest rates in the market but also get complete documentation.
Frequently Asked Questions
(FAQs)
Areas We Serve
For Cash For Car

Removals
Vehicle Pickup Service Location Melbourne and Its Surrounding Areas
City of Melbourne
City of Port Phillip
City of Yarra
City of Banyule
City of Darebin
Carlton 3053
Albert Park 3206
Abbotsford 3067
Bellfield 3081
Alphington 3078
Carlton South
Balaclava 3183
Alphington 3078
Briar Hill 3088
Bundoora 3083
Carlton North 3054
Elwood 3184
Burnley 3121
Bundoora 3083
Mount Cooper
Docklands 3008
Brighton Road
Carlton North 3054
Greenwood Village
Fairfield 3078
East Melbourne 3002
Melbourne 3004
Clifton Hill 3068
Janefield
Kingsbury 3083
Flemington 3031
Albert Park Barracks
Collingwood 3066
Larundel
Macleod 3085
Kensington 3031
Middle Park 3206
Collingwood North
Polaris
Northcote 3070
Melbourne City 3000
Port Melbourne 3207
Cremorne 3121
Eaglemont 3084
Croxton East
Melbourne 3004
Beacon Cove
Richmond East
Eltham 3095
Northcote South
North Melbourne 3051
Fishermans Bend
Fairfield 3078
Eltham North 3095
Rucker's Hill
Hotham Hill
Garden City
Yarra Bend
Greensborough 3088
Preston 3072
Parkville 3052
Ripponlea 3185
Fitzroy 3065
Apollo Parkways
Darebin Park
Royal Park
St Kilda 3182
Eastern Hill
Grace Park
Gilberton
Port Melbourne 3207 (Shared with City of Port Phillip)
St Kilda South
Fitzroy South
Green Hills
Northland
Fishermans Bend
St Kilda East 3183
Fitzroy North 3068
Heidelberg 3084
Preston Lake
Southbank 3006
St Kilda West 3182
Princes Hill 3054
Heidelberg Heights 3081
Preston West
South Wharf 3006
St Kilda Junction
Richmond 3121
Heidelberg North
Regent West
South Yarra 3141 (Shared with City of Stonnington)
Southbank 3006
Burnley North
Heidelberg West 3081
South Preston
West Melbourne 3003
South Melbourne 3205
Richmond South
Ivanhoe 3079
Sylvester
Coode Island
City Road
Victoria Gardens
Fairy Hills
Reservoir 3073
See Melbourne city centre for precincts in the CBD.
Emerald Hill
City of Moreland
Ivanhoe North
Gilbank
City of Moonee Valley
South Wharf 3006
Brunswick 3056
Ivanhoe East 3079
Reservoir East
Aberfeldie 3040
City of Hume
Brunswick Lake
Lower Plenty 3093
Reservoir North
Airport West 3042
Attwood 3049
Brunswick North
Macleod 3085
Reservoir South
Ascot Vale 3032
Broadmeadows 3047
Brunswick East 3057
Mont Park
Summerhill
Ascot Vale West
Broadmeadows South
Lygon Street North
Macleod West
Thornbury 3071
Avondale Heights 3034
Broadmeadows Square
Moreland East
Montmorency 3094
Pender
Essendon 3040
Fentona
Sumner
Rosanna 3084
Thornbury North
Cross Keys
Meadow Fair
Brunswick West 3055
Banyule
Townships and rural localities
Essendon Fields 3041
Campbellfield 3061
Grantham Street
St Helena 3088
Bulla 3428
Essendon North 3041
Coolaroo 3048
Brunswick South
Viewbank 3084
Clarkefield 3430
Essendon West 3040
Craigieburn 3064
Moonee Vale
Rosanna East
Lancefield Junction
Flemington, Victoria 303
Dallas 3047
Moreland West
Watsonia 3087
Diggers Rest 3427
Keilor East 3033
Gladstone Park 3043
Coburg 3058
Watsonia North 3087
Kalkallo 3064
Lincolnville
Greenvale 3059
Coburg East
Yallambie 3085
Mickleham 3064
Moonee Ponds 3039
Jacana 3047
Moreland (the name of the railway station)
Shire of Nillumbik
Konagaderra Springs
Niddrie 3042
Keilor 3036
Coburg North 3058
Diamond Creek 3089
Oaklands Junction 3063
Strathmore 3041
Meadow Heights 3048
Newlands (Estate)
Eltham 3095
Oaklands Park
Strathmore Heights 3041
Melbourne Airport 3045
Fawkner 3060
Glen Park'
Wildwood 3429
Travancore 3032
Roxburgh Park 3064
Fawkner East
Eltham North 3095
Yuroke 3063
Somerton 3062
Fawkner North
Greensborough 3088
Westmeadows 3049
Gowrie
Hurstbridge 3099
Sunbury 3429
Moomba Park
Midhurst
Jacksons Hill
Glenroy 3046
North Warrandyte 3113
Goonawarra
Westbreen
Sloan Hill
Gowanbrae 3043
Research 3095
Fern Ridge
Wattle Glen 3096
Willowbrook
Diamond Creek
Hadfield 3046
Oak Park 3046
Pascoe Vale 3044
Pascoe Vale South 3044
Coonans Hill
Tullamarine 3043