Cash for Cars Pakenham -
Car Wreckers Pakenham
Find Out How Much Your Car is Worth
Cash for Cars Pakenham is here to help. We pay up to $8,999 for used cars in any Melbourne suburbs. Bring yours to us, no matter how many dents it has. We will take it away on the very day you call us.

Cash for Used

Trucks Pakenham
Your used truck has seen you through many tough work days, but its gasket has blown. If you are in Pakenham, do contact us, and we will retire it for you.
Your old van may need an overhaul, but repairing it may cost more than getting a new one. Sell it to us and get back at least some of what you paid for it before.
Cash for Used

UTEs Pakenham
If the cargo tray of your old Coupe Utility is giving way, let Cash for Cars Pakenham take it off your hands. We will reimburse you with well-deserved cash.
1. Remove Your Personal Belongings – Selling your car is like parting with your house. Both accumulate belongings over time. Note that you are responsible for the things in your vehicle and should remove them before we take it away, Once we do, you will not get another chance to find them.
2. Remove the license plates – We remove your car a few hours after you call us. You will have to make hasty arrangements, so remember to take the license plates of your vehicle.
3. Get Your Title Ready – Remember to cancel your car insurance and return your license plates. Have your vehicle title ready so that you can transfer the ownership of your vehicle to us. Note that you may still be accountable for it otherwise. We will handle all the paperwork and free you of hassles.
4. Give a valid description – You should turn your vehicle in the state your described. Note that the value of your car may change depending on this description.
5. Use up your gasoline – The gas in the tank of your car may be part of its value. Scrap yards like ours will have to drain all fluids before starting the recycling process. Use up all your gasoline so that the offer we make for your car will reflect its scrap value.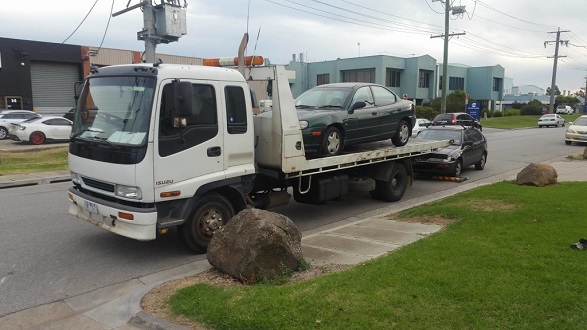 Our friendly car removal goes to anywhere in Pakenham. Why pay for someone to tow your car away when we can do it for free? We will take it away at no cost to you.
There are many ways to get rid of your old car, so why sell it to us? There is no reason not to. With over ten years of experience removing cars from the Pakenham area, we are one of its premier salvage car dealers. We can offer the best possible prices for cars. We empathize with the needs of used car owners. They prefer to exchange their used vehicles for useful cash, instead of more expensive, new ones.
Cash for Cars Pakenham makes the car removal process an easy one. You do not have to come to us; our truck drivers will go to your preferred location. We handle all administrative details so that you will be hassle free. You will benefit the environment if you choose us. We do not use harsh chemicals to scrap vehicles. You will also keep the streets of Pakenham clean.
We welcome every type of car there is. We will buy them, whether they are accident-damaged or old. Whether the cars have registration does not matter. We retrieve their components and make them available for sale.
If you have a used vehicle with a blown gasket, get it ready for us. We will give you the cash you need for it.
When you call us or fill up our online form, we will get a detailed description of your car. We will tell you about its estimated worth, based on these details. Our experts will then head to your location and view your vehicle. They will make you an offer for it, after taking its accessories into account. They will pay you, then and there. Our friendly truckers will remove it immediately. We depollute your vehicle and drain all fluids, using equipment only available to licensed Pakenham dealers. After retrieving its spare parts, we will flatten it and sell the metal.
Call us at
0409 526 398
, or fill up our online quote form to make an appointment with us today. We are the medication for your used car headaches.